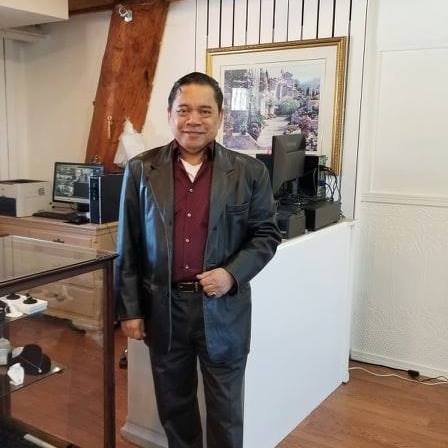 AquaGem Jewelry?opening in February 2019 at the Historic Cedar Street Bridge in Sandpoint, ID. ?AquaGem is owned and operated by Angelito Marapao as the jeweler and designer with the assistance of his wife Theresa Drake. ?Together they are making Sandpoint their home.
Angelito was born in the Philippines. ?He learned to be a jeweler at the age of 13 after his mother passed away and the children were all spread out among relatives. ?Angelito was sent to Manila to live with an aunt and uncle who owned a jewelry store. ?He contributed to his food, housing, and schooling by working in the jewelry store and their he learned his craftmanship.
He later managed more than 100 other jewelers in a large manufacturing operation in Manila before coming to the United States at the age of 38 years old. ?He continued to learn new techniques and perfect his skills as a jeweler. ?Now he is approaching more than 50 years of experience.
He works in Gold, Silver, and Platinum metals. ?He can set all precious stones and design your jewelry as a one of a kind piece.
He can also repair and fix jewelry that others may have thought unrepairable.
He has already made many of the Sandpoint residents very happy with their custom pieces.
The store offers many Gold and Sterling Silver pieces with many items Angelo?s designs.
We are looking forward to meeting all the Sandpoint and surrounding area residents, and to welcome the yearly tourist who come to Sandpoint for the beautiful lakes, mountains and natural resources each year. ?We are learning daily there is more to Sandpoint than we ever expected. ?Our first Moose sighting was the inspiration for the Moose pendants we immediately put in the new store.